Welcome to the Glacier Change in the Upper Skagit River Basin Web Site
---
by Frank D. Granshaw and Dr. Andrew G. Fountain

Department of Geology

Portland State University

Portland, Oregon
Funding provided by the Skagit Environmental Endowment Commission

Assistance provided by Jon Riedel (North Cascades National Park), Jeffery Such (Skagit Provincial Park), Thomas Eng (BC Parks, Lower Mainland District)
---
What's so important about glacier change?
Where is the Upper Skagit River Basin?
The Skagit River is located in Northwestern Washington State and Southwestern British Columbia. It begins in the North Cascades Range where its flows through rugged, glacially carved mountains. Then across broad coastal plans, and finally empties into the Puget Sound. The Upper Skagit River Basin includes the Skagit River watershed upstream from Seattle City Light's Ross Dam.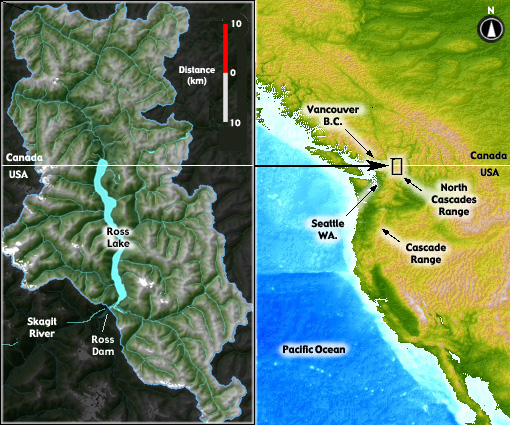 The extent and Location of the Upper Skagit River Basin
---
Questions, problems, or comments?
Address them to Frank Granshaw at <fgransha@artemis-science.com>
or Andrew Fountain at <bjaf@pdx.edu>
This site last was created June 20, 2002
last modified May 24,2003